We researched over 50 Personal Injury attorney and Firms in Arlington, Tx city and out of these, we've listed the 3 best and most successful Personal Injury attorney details below.
Also See: Find Best Personal Injury Lawyer Near Me (Search By Zip Code)
1. Thompson Law Injury Lawyers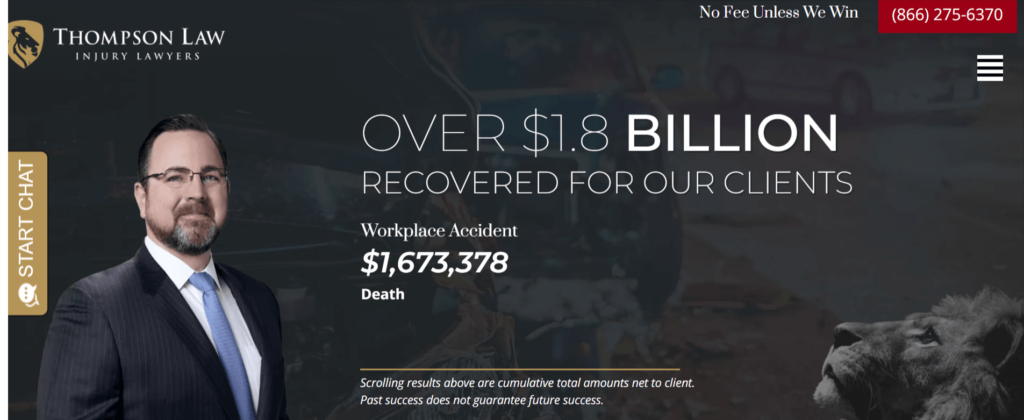 If you're looking for the best and most successful personal injury attorney in Arlington, TX then you should contact Ryan Thompson who started Thompson Law Injury Lawyers. Thompson is known as one of the best personal injury lawyers in DFW and San Antonio city. Personal injury attorney Ryan Thompson helps injury victims across Texas through the Thompson Law offices in Arlington and surrounding areas. 
You'll be happy to know that Ryan is one of the most successful catastrophic injury lawyers in Texas, with 10 of Texas's top 50 personal injury settlements in 2020. Ryan has represented victims in several injury accidents, like car wrecks, truck accidents, construction accidents, ATV crashes, & aviation accidents.
Lawyer Ryan is a lifetime member of the Multi-Million Dollar Advocates Forum, a Top 25 Motor Vehicle Trial Lawyer by the Motor Vehicle Trial Lawyers Association, a Top 100 Trial Lawyer by National Trial Lawyers, & a Texas Super Lawyers. These all achievements make him one of the most successful personal injury attorneys in Arlington and the whole Texas state.
Address: 3300 Oak Lawn Ave Suite 300, Dallas, TX 75219
Phone: (214) 919-5860
Open Hours: Mon – Sun (7:30 am – 10:30 pm)
Website: https://1800lionlaw.com
2. Aulsbrook Car & Truck Wreck Lawyers 
If you're looking for a personal injury attorney then you should always look for those lawyers who are expert specially in injuries cases. So Aulsbrook Car & Truck Wreck Lawyers in Arlington, Texas is one of them who can help you to provide maximum settlement. 
This popular personal injury law firm is prepared to create a strong and unique legal defense for your personal injuries. Contact them today for legal representation if you have been involved in a car accident, truck accident, medical malpractice case, premises liability case, or another area of personal injury.
Their legal team takes pride in providing top-notch legal representation to those in need. If you are in need of legal assistance, schedule a consultation with a member of their experienced legal team.
Address: 420 E Lamar Blvd #110, Arlington, TX 76011
Phone: (817) 775-5364
Open Hours: Mon – Fri (9 am – 5 pm), Sat & Sun (Closed)
Website: https://thetexaslawdog.com/
3. Bailey & Galyen Injury and Accident Attorneys
If you are not interested with the above two options then I highly recommend you Bailey & Galyen Injury and Accident Attorneys. This law firm is also very popular in Arlington and surrounding areas for representing legal assistance with maximum liability for their clients.
Bailey & Galyen have more than 40 years of hands-on experience with Texans facing a wide range of legal issues. They have the knowledge, skill, experience and resources to help you get the results you seek. Attorney of this firm can provide you maximum settlement for an injury case.
If you need an experienced personal injury lawyer in Arlington or nearby locations then you should definitely contact Bailey & Galyen law firm for your case.
Address: 500 E Debbie Ln Suite 300, Arlington, TX 76002
Phone: (214) 717-6633
Open Hours: 24 Hours
Website: https://www.thetexasattorney.com