We researched over 100 Personal Injury attorney and Firms in the City of Mesa, Arizona, and out of these, we've listed the 3 best and most successful Personal Injury attorney details below.
Also See: Find Best Personal Injury Attorney Near Me (Search By Zip Code)
1. Thomas Grier Accident Injury Attorney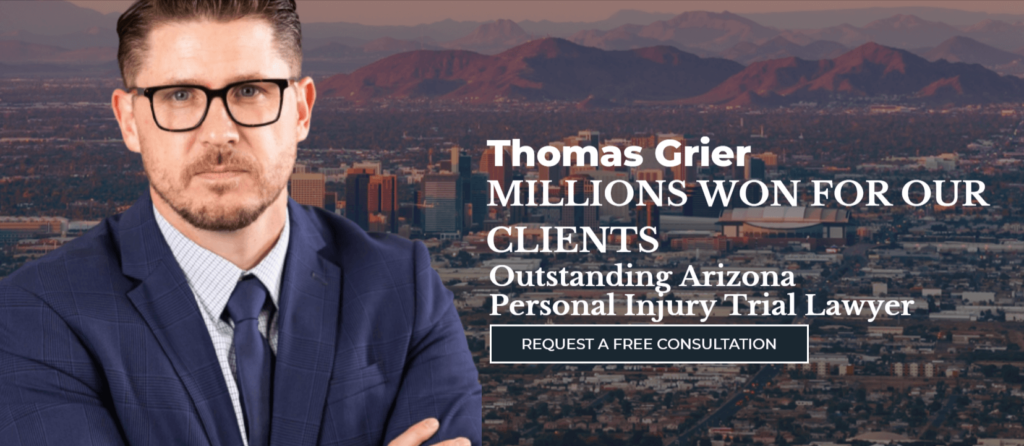 If you are searching for the best personal injury lawyer in Mesa or nearby areas then Thomas Grier Accident Injury firm law should be your first choice. Accident Injury Attorney Thomas Grier helps injured people and families in Arizona — those harmed by others' negligence and wrongful conduct, and those shortchanged by insurance companies that engage in unfair claim practices.
Thomas Grier aggressively advocates for his clients to earn their friendship and trust. Thomas Grier also provides knowledgeable Landlord representation in the handling and litigation of eviction proceedings, default issues, and a full scope of other legal disputes arising from the landlord tenant relationship. This law firm is located in the Arizona East Valley.
They handle all aspects of personal injury law in Arizona. Give them a call today to schedule a free consultation. They'll review your case with you and make some initial recommendations on the next steps. Thomas Grier operates on a contingency fee basis, which means you don't have to pay unless they win your case. So if you're looking for the best and successful personal injury lawyer in Mesa then you should definitely check out their profiles.
Address: 2650 E Southern Ave, Mesa, AZ 85204 (Get Direction)
Phone: (480) 788-5293
Open Hours: Mon- Fri (8 am – 5 pm), Sat & Sun (Closed)
Website: http://www.thomasgrier.com
2. Schenk Podolsky Attorneys at Law
Not happy with the first one? Personal Injury Lawyer Firm in Mesa, Schenk Podolsky Attorneys at Law has extensive experience serving and protecting the injured in Arizona. Located in East Valley, their Mesa personal injury law firm comes highly recommended by their clients and medical providers as the Valley's trusted legal resource for all types of injuries.
From fender benders to wrongful death, regardless of the size or complexity of the case, like many others, you can trust in the legal team and staff at Schenk Podolsky to protect your rights and pursue the full and fair recovery you deserve.
Now talking about attorneys of this firm, Jacob R. Podolsky is a managing partner and founding member of the Schenk Podolsky Attorneys at Law firm. Mr. Jacob Podolsky has dedicated his complete career to assisting those injured by others. He has experience in the Federal Courts of the United States, has handled cases from the pre-litigation stage through arbitration, and has successfully tried numerous cases to jury verdict. He works diligently to ensure his clients receive fair compensation quickly.
Address: 4140 E Baseline Rd Suite 101, Mesa, AZ 85206 (Get Direction)
Phone: (480) 757-5000
Open Hours: Mon – Fri (8 am – 5 pm), Sat & Sun (Closed)
Website: http://www.myarizonainjurylawyers.com
3. JacksonWhite Law
Not happy with the above two options? You will be definitely satisfied with JacksonWhite Law if you know more about this law firm. JacksonWhite Attorneys at Law is a full-service law firm located in Mesa, Arizona. Their Mesa office is located at the northwest corner of W. Pepper and N. Center Street. Parking is available on Pepper, or in the parking garage west of the building.
They offer a full range of legal services to assist individuals, families and businesses in achieving success in a wide range of legal matters. Their practice areas include elder law, criminal law, family law, estate planning, personal injury, immigration law, employment law, eminent domain, real estate, probate, Social Security disability and other areas.
Founded in 1983, the firm has grown steadily to include a full complement of highly experienced attorneys and staff who are proud to be a part of the largest law firm in Phoenix's East Valley, with additional offices in Scottsdale, Phoenix and Peoria. Contact them today to learn more about how they can serve you.
Address: 40 N Center St #200, Mesa, AZ 85201 (Get Direction)
Phone: (480) 464-1111
Open Hours: Mon – Fri (8 am – 5 pm), Sat & Sun (Closed)
Website: https://www.jacksonwhitelaw.com